Since its creation in 1745,
Drambuie Liqueur
has been a symbol of Scottish heritage and craftsmanship. This exquisite blend of aged Scotch whisky, spices, and heather honey offers a timeless taste experience that is unmatched by other liqueurs. Drambuie is a premium spirit that is beloved by connoisseurs and casual drinkers alike.
Key Takeaways:
Drambuie Liqueur is a honey and herb liqueur, made with aged Scotch whisky.
It is a premium spirit that is considered a classic in the world of whisky liqueurs.
The unique blend of spices and honey creates a rich and indulgent flavor profile that is timeless.
Drambuie is a versatile spirit that can be enjoyed on its own or mixed in a variety of cocktails and recipes.
A Luxuriously Smooth Blend of Scotch Whisky and Honey – The Essence of Drambuie Liqueur
Drambuie Liqueur
is a premium spirit that has been enjoyed by connoisseurs for centuries. Crafted using a secret blend of aged
Scotch whisky
, spices, and heather honey,
Drambuie
offers a unique taste that sets it apart from other liqueurs in the market. What makes Drambuie truly special is its ingredients. Each component is meticulously selected to create a harmonious flavor profile. The aged Scotch whisky forms the backbone of the spirit, providing a rich and complex flavor that is enhanced by the honey's natural sweetness. The spices used in the blend, such as nutmeg and cloves, provide a subtle complexity that rounds out the overall taste. This premium spirit is carefully crafted in small batches to ensure consistent quality and taste in every bottle. Whether enjoyed neat, on the rocks, or as an ingredient in a classic cocktail, Drambuie is a luxurious indulgence that is perfect for any occasion. The versatility of Drambuie Liqueur makes it an essential addition to any liquor cabinet. Its honey and herb infusion perfectly complement a variety of mixers, cocktails, and even culinary creations. Whether you are a seasoned mixologist or a curious beginner, there are countless ways to enjoy the flavors of Drambuie.
Unleash Your Creativity with Drambuie Cocktails – A World of Possibilities
Drambuie Liqueur is more than just a delicious
after-dinner drink
. It is a versatile spirit that can be used to create a variety of captivating cocktails. Whether you are a seasoned mixologist or a beginner, experimenting with the unique flavor profile of Drambuie can be a fun and rewarding experience. One of the most popular ways to enjoy Drambuie in a cocktail is with a simple mix of lemon juice and honey syrup. This classic cocktail, known as the Rusty Nail, has been a favorite for decades and is a perfect example of how the sweet, herbaceous flavors of Drambuie can complement other ingredients. For a refreshing twist on this timeless cocktail, try adding a splash of soda water and garnishing with a lemon twist. If you're feeling adventurous, try mixing Drambuie with a variety of other liqueurs and spirits. A delicious and complex cocktail can be made by combining Drambuie with a dark rum, ginger syrup, and lime juice. For a more exotic flavor profile, mix Drambuie with matcha tea, fresh ginger, and lime juice and top with sparkling wine. For those who prefer a simpler approach to cocktail making, there are a variety of mixers that pair perfectly with Drambuie. Ginger beer is a popular choice, as is apple cider. A simple soda water can also help to bring out the subtle flavors of Drambuie without overpowering them. Whatever your preference, there is a Drambuie cocktail that is sure to please. With its bold and unique flavor, it is a versatile spirit that can elevate any drink recipe to new heights of sophistication and indulgence. So, go ahead and unleash your creative side with
Drambuie cocktails
– the possibilities are endless.
Elevate Your Drinking Experience – Drambuie Liqueur as the Perfect After-Dinner Drink
Indulging in a post-dinner drink is not just a ritual but an experience that should be savored. Enter Drambuie Liqueur, the premium
Scotch whisky liqueur
that embodies the essence of luxury. Made from a meticulous blend of aged Scotch whisky, spices, and heather honey, Drambuie has a rich and smooth flavor that lingers on the palate, making it the ideal
after-dinner drink
. As a premium spirit, Drambuie Liqueur is best enjoyed straight, on the rocks or in a snifter glass. The glass should be cradled in your hand, allowing the warmth from your palm to open up the flavors and aromas. Sip it slowly, savoring the unparalleled taste that only Drambuie can offer. For those who prefer a bit of sweetness, Drambuie can be paired with desserts like chocolate cake or apple pie. The honeyed notes of the liqueur beautifully complement the richness of the desserts, creating a heavenly pairing that will leave your taste buds longing for more. Feeling adventurous? Try mixing Drambuie Liqueur with other
premium spirits
like cognac or bourbon for a unique twist on classic cocktails. The bold flavors of Drambuie will add depth and complexity to any concoction, making it perfect for cocktail enthusiasts who want to experiment with new and exciting flavors. In summary, whether you prefer to enjoy it neat, on the rocks, or mixed into a delectable cocktail, Drambuie Liqueur is the perfect
after-dinner drink
that elevates any drinking experience. Indulge in the premium taste of this
scotch whisky liqueur
, and savor the richness and sophistication that only comes with a premium spirit.
Discover the Story of The Singleton Whisky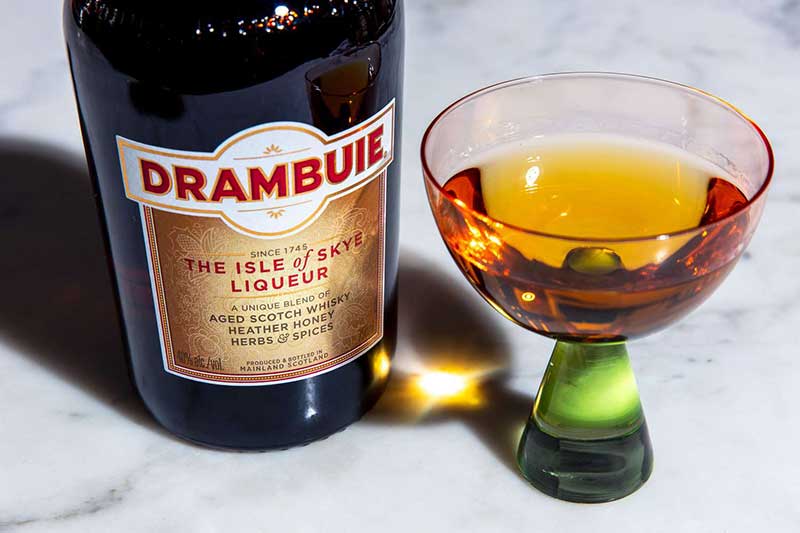 The Heritage and Legacy of Drambuie Liqueur – A Taste of Scotland
Since its creation in the early 18th century, Drambuie Liqueur has been an integral part of Scottish culture. Its unique blend of aged Scotch whisky, heather honey, and spices has made it a beloved spirit not only in Scotland but around the world. The origins of Drambuie can be traced back to the Jacobite uprising of 1745, when Bonnie Prince Charlie fled to the Isle of Skye after his defeat at the Battle of Culloden. There, he was given a secret recipe for a potent elixir that would give him strength and courage. That recipe would eventually become Drambuie Liqueur. For more than 270 years, Drambuie has remained true to its Scottish heritage, using only the finest ingredients to create a premium spirit that is both sophisticated and indulgent. Its smooth, rich flavor has made it a favorite among those who appreciate the finer things in life.
| | |
| --- | --- |
| Flavor Profile: | Rich, smooth, with a hint of sweetness from the heather honey |
| Color: | Deep amber |
| Aroma: | Spicy, with notes of honey and herbs |
| Alcohol Content: | 40% ABV |
Today, Drambuie continues to be a symbol of Scottish craftsmanship, representing the country's rich history and heritage. Whether you're enjoying it on its own or as part of a delicious cocktail, Drambuie Liqueur is a premium spirit that is sure to impress.
Enjoy Drambuie Liqueur on Its Own or in a Variety of Delicious Recipes
Drambuie Liqueur is a premium spirit that can be enjoyed in a variety of different ways. Whether you prefer to savor its complex flavors on their own or use it as an ingredient in culinary creations, the possibilities are endless. Here are some delectable recipes that showcase the versatility of Drambuie:
Drambuie Cobbler
| Ingredients: | Instructions: |
| --- | --- |
| – 2 oz Drambuie Liqueur | 1. Add ice to a cocktail shaker. |
| – 1 oz fresh lemon juice | 2. Pour in the Drambuie and lemon juice. |
| – 1 oz fresh orange juice | 3. Shake well and strain into a chilled glass. |
| – 1 oz pineapple juice | 4. Garnish with a slice of orange and a sprig of mint, if desired. |
| – Ice cubes | |
This refreshing cocktail is perfect for sipping on a warm summer day. The sweetness of the Drambuie is balanced by the tartness of the citrus juices, making for a perfectly balanced drink.
Drambuie Chocolate Truffles
If you're looking for a delicious dessert that incorporates the unique flavor of Drambuie, try making these chocolate truffles:
– 8 oz semi-sweet chocolate chips
– 1/2 cup heavy cream
– 1/4 cup Drambuie Liqueur
– 1/2 cup unsweetened cocoa powder
Instructions:
1. Place the chocolate chips in a medium-sized bowl.
2. In a small saucepan, heat the heavy cream over medium heat until it begins to simmer.
3. Remove the cream from the heat and pour it over the chocolate chips. Let sit for 1-2 minutes, then stir until the chocolate is completely melted and the mixture is smooth.
4. Stir in the Drambuie and mix until fully incorporated.
5. Cover the mixture and refrigerate for at least 2 hours, or until firm.
6. Using a small scoop or spoon, form the mixture into small balls.
7. Roll the balls in the cocoa powder until fully coated.
8. Serve and enjoy!
The rich, decadent flavor of the chocolate is perfectly complemented by the sweetness of the Drambuie in these truffles. They're sure to be a hit at any gathering! Whether you prefer to enjoy Drambuie on its own or incorporate it into delicious recipes, this premium spirit is sure to elevate your drinking and dining experience. Its unique blend of aged Scotch whisky, spices, and heather honey makes it a standout in the world of
premium spirits
, and its versatility opens up a world of possibilities for creative bartenders and home chefs alike.
Traditional Airag Recipe
Conclusion
As we come to the end of our journey through the world of Drambuie Liqueur, it is clear that this spirit is truly one-of-a-kind. With its blend of aged Scotch whisky, spices, and heather honey, it has become a beloved classic among
premium spirits
. The luxuriously smooth essence of Drambuie is perfect to savor on its own, or in a delicious cocktail. Its versatility knows no bounds, and it can be used in everything from culinary creations to desserts. Through its cultural significance and heritage, Drambuie is a timeless symbol of Scottish craftsmanship. Its unique taste and history make it an unforgettable drinking experience that is synonymous with luxury and elegance.
Indulge in the Timeless Flavors of Drambuie Liqueur Today
If you have yet to try Drambuie Liqueur, we encourage you to do so. Its unmatched flavor profile and versatility make it a worthy addition to any drinks cabinet or bar. Embrace the tradition and heritage of this
Scottish liqueur
, and discover the endless possibilities it has to offer.
What Makes Absinthe a Unique and Mystical Drink?
Unraveling absinthe's mysterious origins and effects unveils the reasons behind its allure. This highly potent green spirit, steeped in history, captivates with its legendary reputation. Absinthe's distinct flavor and the presence of wormwood contribute to its enigmatic nature. The drink's association with bohemian culture and the supposed hallucinogenic properties it possesses add to its mystical allure. An experience with absinthe is unlike any other, making it truly unique.
FAQ
Q: What is Drambuie Liqueur?
A: Drambuie Liqueur is a premium
Scottish liqueur
made from a blend of aged Scotch whisky, spices, and heather honey. It offers a unique and delicious taste that sets it apart from other spirits.
Q: How should I drink Drambuie Liqueur?
A: Drambuie Liqueur can be enjoyed in a variety of ways. It can be savored on its own, served over ice, or used as a key ingredient in cocktails and culinary recipes. The choice is yours!
Q: Can I mix Drambuie Liqueur with other spirits?
A: Absolutely! Drambuie Liqueur can be mixed with a wide range of spirits to create delicious and unique cocktails. It pairs particularly well with whisky, rum, and gin.
Q: Are there any cocktail recipes that feature Drambuie Liqueur?
A: Yes! There are numerous cocktail recipes that highlight the distinct flavor of Drambuie Liqueur. From classics like the Rusty Nail to modern creations like the Highlander Sour, there is a Drambuie cocktail for every taste.
Q: Does Drambuie Liqueur have a long history?
A: Yes, Drambuie Liqueur has a rich heritage that dates back over 250 years. It is deeply rooted in Scottish tradition and craftsmanship, making it a timeless symbol of quality and taste.
Q: Can I use Drambuie Liqueur in cooking?
A: Absolutely! Drambuie Liqueur can add a touch of sophistication and complexity to a wide range of dishes. From desserts like Drambuie-infused chocolate mousse to savory recipes like honey-glazed salmon, there are endless possibilities to explore.
Q: Where can I purchase Drambuie Liqueur?
A: Drambuie Liqueur is available at most liquor stores and online retailers. You can also find it at select bars and restaurants that offer a premium spirits selection.
Q: Is Drambuie Liqueur suitable as a gift?
A: Yes, Drambuie Liqueur makes an excellent gift for spirits enthusiasts or anyone who appreciates fine liqueurs. Its unique flavor and elegant packaging make it a truly thoughtful and special present.