Gastroesophageal Reflux Disease (GERD) is a chronic digestive disorder that affects millions of people worldwide. It occurs when stomach acid or bile flows back into the esophagus, causing irritation and inflammation. In this article,
thinkgirl
will explore the various symptoms associated with GERD, how it is diagnosed, available treatment options, potential complications, and preventive measures.
Introduction
Living with GERD can be challenging, as the symptoms can significantly impact a person's quality of life. Understanding the symptoms is crucial for timely diagnosis and effective management.
What is Gastroesophageal Reflux Disease?
Definition
GERD is a condition characterized by the backward flow of stomach acid into the esophagus. The
lower esophageal sphincter
(LES), a ring of muscle at the bottom of the esophagus, is responsible for preventing this reflux. When the LES weakens or relaxes abnormally, acid reflux occurs.
Causes
Several factors can contribute to the development of GERD. These include obesity, pregnancy, hiatal hernia, and certain medications such as
NSAIDs
and calcium channel blockers. Lifestyle choices, such as smoking and excessive alcohol consumption, can also increase the risk.
Risk Factors
Certain factors can increase the likelihood of developing GERD. These include age, obesity, pregnancy, smoking, and certain medical conditions like asthma and diabetes.
Common Symptoms
GERD can present a range of symptoms, and the severity may vary from person to person. Here are some common symptoms associated with GERD:
Heartburn
Heartburn
is a burning sensation in the chest that often occurs after eating or at night. It is one of the most common symptoms of GERD and is caused by the irritation of the esophagus by stomach acid.
Regurgitation
Regurgitation is the sensation of acid or food coming back up into the mouth or throat. It can leave a sour or bitter taste and is often accompanied by a feeling of discomfort.
Chest Pain
Chest pain caused by GERD can be similar to that of a heart attack, leading to confusion and concern. This pain may radiate to the neck, jaw, or arms and is important to differentiate from cardiac-related chest pain.
Difficulty Swallowing
GERD can cause a narrowing of the esophagus, making it difficult to swallow food or even liquids. This symptom, known as dysphagia, should be evaluated promptly.
Chronic Cough
A persistent cough that is not related to a respiratory infection may be a symptom of GERD. The refluxed stomach acid can irritate the throat, triggering a chronic cough.
Other Symptoms
In addition to the commonly experienced symptoms mentioned above, GERD may also manifest as hoarseness, sore throat, excessive saliva production, and the feeling of a lump in the throat.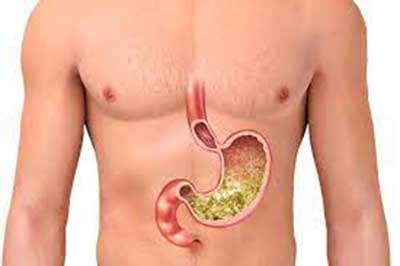 Diagnosis
Accurate diagnosis of GERD involves a comprehensive evaluation of the symptoms and medical history. The following diagnostic methods may be used:
Medical History
The healthcare provider will gather information about the frequency and severity of symptoms, as well as any factors that worsen or alleviate them. It's important to provide a detailed account of symptoms to aid in diagnosis.
Physical Examination
A physical examination may be conducted to assess for any signs of complications or underlying conditions that could contribute to GERD.
Diagnostic Tests
Several tests can help confirm a diagnosis of GERD. These may include an upper endoscopy, esophageal manometry, pH monitoring, and imaging tests like a barium swallow or esophagram.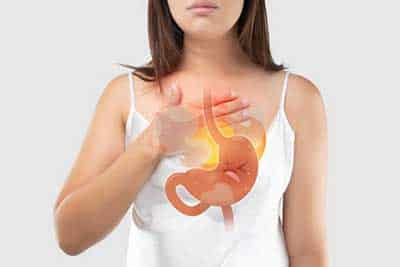 Treatment Options
Managing GERD involves a combination of lifestyle changes, medications, and, in severe cases, surgical procedures. The following treatment options may be recommended:
Lifestyle Changes
Certain modifications to daily habits can help alleviate GERD symptoms. These include maintaining a healthy weight, avoiding trigger foods (e.g., fatty and spicy foods, caffeine, citrus fruits), eating smaller meals, and elevating the head while sleeping.
Medications
Various medications can provide relief from GERD symptoms and reduce stomach acid production. Antacids, H2 blockers, and proton pump inhibitors (PPIs) are commonly prescribed.
Surgical Procedures
For individuals who do not respond to lifestyle changes and medications, surgical interventions such as fundoplication or LINX device placement may be considered to reinforce the lower esophageal sphincter and prevent acid reflux.
Alternative Therapies
Some individuals find complementary and alternative therapies helpful in managing GERD symptoms. These may include acupuncture, herbal remedies, and relaxation techniques. It's essential to consult with a healthcare professional before pursuing any alternative therapies.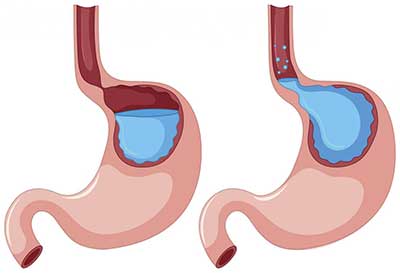 Complications
If left untreated or poorly managed, GERD can lead to various complications. These include:
Esophagitis
The continuous exposure of the esophagus to stomach acid can cause inflammation, leading to esophagitis. This condition can result in pain, difficulty swallowing, and the development of esophageal ulcers.
Barrett's Esophagus
Long-term GERD can cause changes in the cells lining the esophagus, leading to a condition called Barrett's esophagus. This condition increases the risk of developing esophageal cancer.
Esophageal Strictures
Repeated inflammation and scarring of the esophagus can cause narrowing or strictures, making it difficult for food to pass through. This can lead to swallowing difficulties and require further interventions to widen the esophagus.
Respiratory Issues
In some cases, GERD can trigger or worsen respiratory problems such as asthma, chronic bronchitis, and recurrent pneumonia. The refluxed stomach acid can irritate the airways, leading to respiratory symptoms.
Dental Problems
The repeated exposure of tooth enamel to stomach acid can cause dental erosion, leading to tooth sensitivity, cavities, and tooth decay. It's important to maintain good oral hygiene and seek dental care to prevent complications.
Prevention
While GERD may not always be preventable, certain measures can help reduce the risk and minimize symptoms:
Dietary Modifications
Avoiding trigger foods such as spicy, acidic, and fatty foods, as well as carbonated beverages and caffeine, can help prevent acid reflux. Opting for a healthy, balanced diet rich in fruits, vegetables, and whole grains is beneficial.
Weight Management
Maintaining a healthy weight can help reduce pressure on the stomach and lower the risk of GERD. Regular exercise and a balanced diet contribute to weight management.
Avoiding Trigger Foods
Identifying and avoiding specific foods that trigger GERD symptoms can significantly improve quality of life. Keeping a food diary can help identify personal triggers.
Elevating the Head
Raising the head of the bed by using a wedge pillow or elevating the upper body with pillows can help prevent stomach acid from flowing back into the esophagus during sleep.
Meet the Cast of John Wick: A Guide to the Characters
Conclusion
Understanding the symptoms of gastroesophageal reflux disease (GERD) is crucial for early detection and effective management. Heartburn, regurgitation, chest pain, difficulty swallowing, chronic cough, and other symptoms can significantly impact a person's well-being. Seeking medical evaluation and following appropriate treatment options, including lifestyle changes, medications, and potential surgical interventions, can help alleviate symptoms and prevent complications associated with GERD.
Are the Symptoms of Osteoarthritis and Gastroesophageal Reflux Disease Similar?
Understanding symptoms of osteoarthritis and gastroesophageal reflux disease is crucial to differentiate between the two conditions. While osteoarthritis manifests as joint pain, stiffness, and swelling, gastroesophageal reflux disease presents with symptoms like heartburn and acid regurgitation. Despite some overlapping discomfort, recognizing these distinctive signs can aid in accurate diagnosis and appropriate treatment.
FAQs
Q1. Is GERD the same as heartburn?
No, heartburn is a symptom of GERD. GERD refers to a chronic condition in which stomach acid flows back into the esophagus, causing various symptoms, including heartburn.
Q2. Can GERD be cured completely?
While GERD cannot be completely cured, it can be effectively managed through lifestyle changes, medications, and, in severe cases, surgical procedures. With proper treatment and ongoing management, symptoms can be minimized.
Q3. Can stress worsen GERD symptoms?
Yes, stress and anxiety can contribute to the worsening of GERD symptoms. Managing stress through relaxation techniques and stress-reducing activities can be beneficial.
Q4. Are there any natural remedies for GERD?
Some individuals find relief from GERD symptoms by incorporating natural remedies such as ginger, chamomile tea, and aloe vera juice. However, it's important to consult with a healthcare professional before trying any alternative therapies.
Q5. Can GERD occur in children?
Yes, GERD can affect individuals of all ages, including children. Pediatric GERD may present with symptoms such as recurrent vomiting, poor weight gain, and respiratory issues. Prompt evaluation and treatment are necessary.