If you're an
adventurous food
lover seeking unique culinary experiences, then the world of traditional delicacies has much to offer. One such intriguing delight is "Muktuk," a dish with cultural significance and a taste that reflects the essence of its origin. Let's embark on a flavorful journey as we delve into the depths of this traditional delicacy
thinkgirl
.
Introduction to Muktuk
Muktuk is a traditional Inuit delicacy that holds a special place in the hearts and diets of the Arctic indigenous communities. This dish is primarily composed of whale skin and blubber, offering a unique combination of flavors and textures that have sustained these communities for generations.
Cultural Significance
Muktuk is more than just a dish; it's a cultural symbol deeply rooted in the traditions of Arctic peoples. For them, it's a source of sustenance, a connection to their ancestors, and a testament to their resilience in the face of harsh conditions.
Harvesting and Preparation
The process of harvesting and preparing Muktuk is a skill passed down through generations. Whales are hunted sustainably, and their skin and blubber are carefully removed. The parts are then cleaned, sliced, and often enjoyed raw, showcasing the authenticity of this traditional fare.
Nutritional Value
Muktuk is rich in nutrients essential for survival in cold climates. It's a concentrated source of energy due to its high fat content, providing a much-needed source of sustenance for communities living in extreme conditions.
Flavor Profile
The flavor of Muktuk can be described as a fusion of seafood umami and a buttery richness from the blubber. The skin offers a chewy texture, while the blubber melts in the mouth, creating a contrast that's both unique and delightful.
Serving and Pairing
Muktuk is often served in small pieces, making it easy to enjoy its distinct taste. It's a versatile ingredient that can be incorporated into various dishes, from stews to salads. Pairing it with acidic elements helps balance the richness of the blubber.
Challenges and Controversies
While Muktuk holds cultural significance, it's not without its challenges and controversies. Sustainability concerns and international regulations have prompted discussions on responsible harvesting and trade, raising questions about its future.
Preservation Techniques
Preserving Muktuk is crucial, given its importance to Arctic communities. Traditional methods like fermentation and freezing are employed, allowing the delicacy to be enjoyed even during the harsh winter months.
Muktuk in Modern Cuisine
In recent years, Muktuk has caught the attention of the culinary world beyond the Arctic. Renowned chefs have begun incorporating it into innovative dishes, merging tradition with modern gastronomy.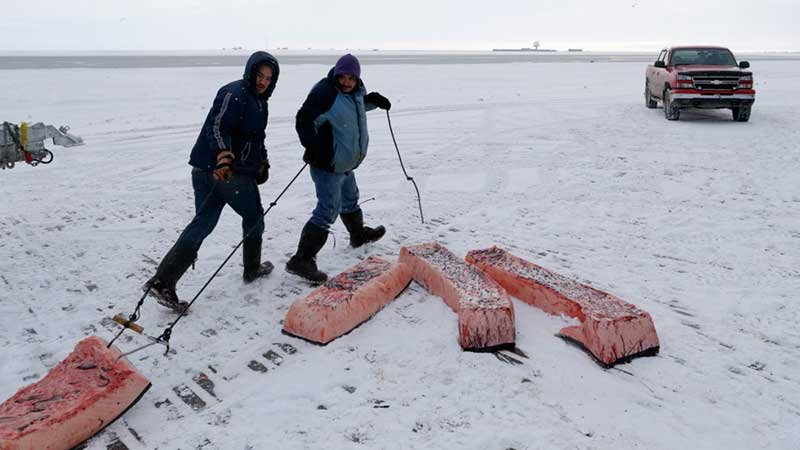 Global Appeal
As people around the world seek new gastronomic adventures, Muktuk has gained global appeal. Its cultural significance and unique flavor profile make it a sought-after experience for those looking to expand their culinary horizons.
Health Benefits
Beyond its cultural value, Muktuk also offers health benefits. Its omega-3 fatty acids promote heart health and reduce inflammation, while its vitamin D content is essential in regions with limited sunlight.
Environmental Impact
The sustainable harvesting of whales for Muktuk has sparked discussions about the delicate balance between cultural preservation and environmental conservation, raising important questions about our responsibility towards these ecosystems.
Recipe: Muktuk Salad
Ingredients:
Freshly sliced Muktuk
Mixed greens
Sliced cucumbers
Red onion rings
Lemon vinaigrette
Instructions:
Arrange mixed greens on a plate.
Top with slices of Muktuk.
Garnish with cucumbers and red onions.
Drizzle lemon vinaigrette over the salad.
Enjoy the unique flavors and textures!
Delicious Homemade Gyros Recipe
Intriguing the Palate: Trying Muktuk
Trying Muktuk isn't just about the taste; it's about immersing yourself in the culture and history of Arctic communities. With an open mind and adventurous spirit, you can appreciate the significance behind this traditional dish.
Conclusion
In the world of gastronomy, Muktuk stands as a testament to the deep connection between food, culture, and identity. Its flavors tell stories of survival, heritage, and adaptation in the face of adversity. As you explore the diverse landscapes of cuisine, consider the role that dishes like Muktuk play in enriching our culinary experiences.
What Makes Charlotte's Game an Exciting Adventure?
Step into the exciting world of charlotte's game and prepare for a thrilling adventure like no other. With captivating storylines, immersive gameplay, and stunning graphics, Charlotte's Game has managed to create an experience that keeps players on their toes. Whether you're uncovering hidden treasures, battling fierce enemies, or solving mind-boggling puzzles, each moment is filled with heart-pounding excitement. Get ready to embark on an unforgettable journey in the exciting world of Charlotte's Game.
FAQs
Is Muktuk safe to eat?
Muktuk is traditionally prepared and consumed by Arctic communities without issue. However, it's essential to source it responsibly and ensure proper handling.
Can I find Muktuk outside the Arctic?
While it's more commonly found in Arctic regions, some specialty food markets or restaurants might offer Muktuk-based dishes.
What does Muktuk taste like?
Muktuk offers a unique blend of seafood flavors with a rich, buttery undertone from the blubber. The skin is chewy, while the blubber melts in your mouth.
How do I incorporate Muktuk into my cooking?
Muktuk can be enjoyed on its own or used as an ingredient in various dishes. It's often served in salads, stews, or even as a topping for sushi.
Is Muktuk sustainable?
Sustainability concerns are being addressed within Arctic communities and internationally to ensure responsible harvesting practices and the preservation of whale populations.