BaNa Hill is a captivating destination nestled in the Truong Son Mountains of central Vietnam. With its picturesque landscapes, vibrant attractions, and fascinating history, BaNa Hill has become a favorite among travelers seeking a unique and enchanting experience. In this article, thinkgirl will delve into the marvels of BaNa Hill, exploring its natural beauty, iconic landmarks, thrilling activities, and the rich cultural heritage it has to offer.
BaNa Hill: A Paradise for Nature Enthusiasts
Exploring the Lush Greenery
One of the remarkable aspects of BaNa Hill is its breathtaking natural beauty. The hill is enveloped in lush greenery, offering a serene escape from the bustling city life. Visitors can take leisurely walks along the well-maintained trails, surrounded by verdant forests and vibrant flora. The fresh mountain air invigorates the senses, creating a tranquil atmosphere that rejuvenates both the mind and body.
The Enigmatic Golden Bridge
A prominent attraction of BaNa Hill is the Golden Bridge, an architectural marvel that has gained international acclaim. This stunning pedestrian bridge stretches across the picturesque hills, appearing to be held up by two colossal stone hands. Walking along the Golden Bridge provides visitors with mesmerizing panoramic views of the surrounding mountains and lush valleys, creating a truly magical experience.
Charming Gardens and Flower Fields
BaNa Hill is also renowned for its charming gardens and flower fields. The hill's temperate climate allows for the cultivation of a wide variety of flowers and plants, creating a vibrant tapestry of colors. Visitors can explore the meticulously designed gardens, marvel at the intricate flower arrangements, and immerse themselves in the sweet fragrance that fills the air. The gardens offer a peaceful retreat where one can relax and appreciate the beauty of nature.
The Iconic Landmarks of BaNa Hill
The French Village
The French Village is a charming replica of a medieval French town and serves as a testament to the historical influence of the French colonial period. Cobblestone streets, quaint cafes, and colorful buildings transport visitors to a different era. The village is adorned with beautiful architecture and provides a delightful backdrop for strolling, enjoying a cup of coffee, or indulging in French cuisine.
Linh Ung Pagoda
Linh Ung Pagoda is a Buddhist temple located atop BaNa Hill, offering breathtaking views of the surrounding landscape. The pagoda is characterized by its intricate architecture, vibrant colors, and serene ambiance. Visitors can explore the temple grounds, admire the ornate statues and shrines, and witness the spiritual rituals performed by the resident monks.
The Fantasy Park
The Fantasy Park is a thrilling amusement park that caters to visitors of all ages. With a wide array of rides, games, and entertainment options, it guarantees a fun-filled experience. From adrenaline-pumping roller coasters to virtual reality adventures, the park offers an exciting escape for adventure enthusiasts and families alike.
Thrilling Activities for Adventure Seekers
The Alpine Coaster
The Alpine Coaster is a popular attraction at BaNa Hill, providing an exhilarating ride down the mountainside. Visitors hop into individual carts and control their speed as they zoom through winding tracks, experiencing the thrill of the descent while enjoying breathtaking views of the surrounding scenery.
Zip-lining Adventures
BaNa Hill offers thrilling zip-lining adventures that allow visitors to soar through the sky, taking in the stunning vistas from a unique perspective. With different zip-line courses available, ranging in length and difficulty, adventure seekers can choose an experience that suits their preferences and skill level.
Aerial Cable Car Ride
For those who prefer a more relaxed yet captivating experience, the aerial cable car ride is a must-do activity. The cable car journey to BaNa Hill offers awe-inspiring views of the Truong Son Mountains and the vast expanse of the Vietnamese countryside. As the cable car ascends, visitors are treated to panoramic vistas that will leave them in awe of nature's grandeur.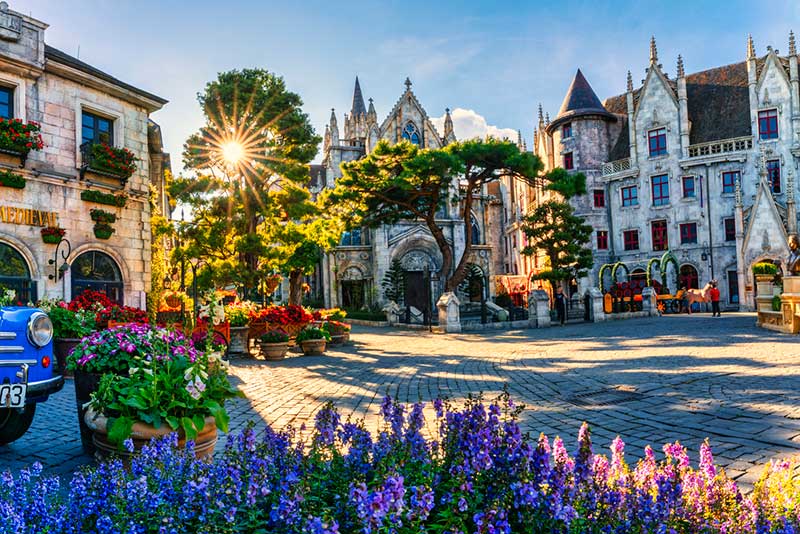 Immersing in BaNa Hill's Cultural Heritage
Traditional Vietnamese Cuisine
BaNa Hill is a haven for food enthusiasts, offering a delightful range of traditional Vietnamese cuisine. From savory street food to delectable delicacies served in local restaurants, visitors can savor the flavors of Vietnam while enjoying the scenic surroundings. The combination of fresh ingredients, aromatic herbs, and culinary mastery makes dining in BaNa Hill a gastronomic adventure.
Folk Performances and Artistic Displays
To fully appreciate the rich cultural heritage of BaNa Hill, visitors can witness captivating folk performances and artistic displays. Traditional dances, music recitals, and theatrical performances showcase the region's artistic talents and provide insight into its cultural traditions. These vibrant displays of artistry add depth and authenticity to the overall experience.
Visiting Historical Sites
BaNa Hill boasts a rich history, and visitors can explore various historical sites that shed light on the region's past. From ancient temples and pagodas to remnants of French colonial architecture, each site tells a unique story. Exploring these historical landmarks allows visitors to gain a deeper understanding of BaNa Hill's heritage and its significance in Vietnam's cultural tapestry.
Conclusion
BaNa Hill is a true gem that captivates visitors with its natural beauty, iconic landmarks, thrilling activities, and rich cultural heritage. From the lush greenery and enigmatic Golden Bridge to the charming French Village and exhilarating Alpine Coaster, BaNa Hill offers a diverse range of experiences for travelers. Whether seeking adventure, tranquility, or cultural immersion, this enchanting destination has something for everyone.
FAQs
How can I reach BaNa Hill?
BaNa Hill can be reached by road from Da Nang City, which is well-connected to major cities in Vietnam. Alternatively, you can take a cable car ride from the base station to the hilltop.
What is the best time to visit BaNa Hill?
The best time to visit BaNa Hill is during the dry season from February to September when the weather is pleasant and the skies are clear.
Are there accommodations available on BaNa Hill?
Yes, BaNa Hill offers a range of accommodations, including luxury resorts and cozy guesthouses, ensuring a comfortable stay for visitors.
Are there any age restrictions for the activities at BaNa Hill?
Some activities at BaNa Hill may have age or height restrictions for safety purposes. It is advisable to check with the respective attractions or operators beforehand.
Can I experience the local culture and cuisine at BaNa Hill?
Absolutely! BaNa Hill provides ample opportunities to immerse yourself in the local culture, enjoy traditional performances, and savor authentic Vietnamese cuisine.