Pho noodles, a traditional
Vietnamese dish
, have gained popularity worldwide for their flavorful broth and aromatic ingredients. This ultimate guide will take you through everything you need to know about Pho noodles, from its origins and ingredients to the best way to enjoy this delicious and comforting soup
thinkgirl
.
Introduction to Pho Noodles
Pho noodles, often simply referred to as "pho," is a traditional Vietnamese soup that typically consists of a flavorful broth, rice noodles, and various meat or vegetable toppings. It is a staple dish in Vietnamese cuisine and has gained a devoted following worldwide.
The History and Origins of Pho
Pho has its roots in Northern Vietnam, where it originated in the early
20th century
. It was influenced by French colonialism and Chinese culinary traditions. Initially, pho was a humble street food sold by vendors who carried mobile kitchens on shoulder poles. Over time, it became popular across Vietnam and eventually spread to different parts of the world.
Ingredients Used in Pho Noodles
Pho noodles are known for their rich and complex flavors, which come from a combination of carefully selected ingredients. The key components of pho include beef or chicken bones for the broth, rice noodles, and various herbs and spices such as star anise, cloves, cinnamon, ginger, and coriander seeds. Fresh ingredients like bean sprouts, Thai basil, lime, and chili are used as garnishes.
The Art of Preparing Pho Broth
The soul of pho lies in its broth. The preparation of the broth requires time and patience to extract the maximum flavors from the bones and spices. Beef bones or chicken carcasses are simmered for hours, allowing the flavors to meld and develop. Skimming the impurities and adding the right amount of spices are crucial steps in achieving a rich and aromatic broth.
Choosing the Right Noodles for Pho
The choice of noodles greatly impacts the texture and overall experience of pho. Traditional pho noodles are made from rice flour, giving them a soft and chewy texture. It's important to choose noodles that are cooked al dente to maintain their integrity in the hot broth. The width of the noodles can vary, with wider noodles providing a more substantial bite.
Meat and Protein Options in Pho
Pho offers a variety of meat and protein options to suit different preferences. The most common choices include thinly sliced beef, beef meatballs, and chicken. Adventurous eaters can try more exotic options like tripe, tendon, or even seafood. Vegetarian and vegan versions often feature tofu or a medley of vegetables as the protein component.
Essential Garnishes and Condiments
Part of the joy of eating pho comes from customizing the dish with garnishes and condiments. A plate of fresh bean sprouts, Thai basil, lime wedges, and sliced chili is typically served alongside the bowl of pho. Hoisin sauce and sriracha are popular condiments that add sweetness and spiciness, respectively, to the broth.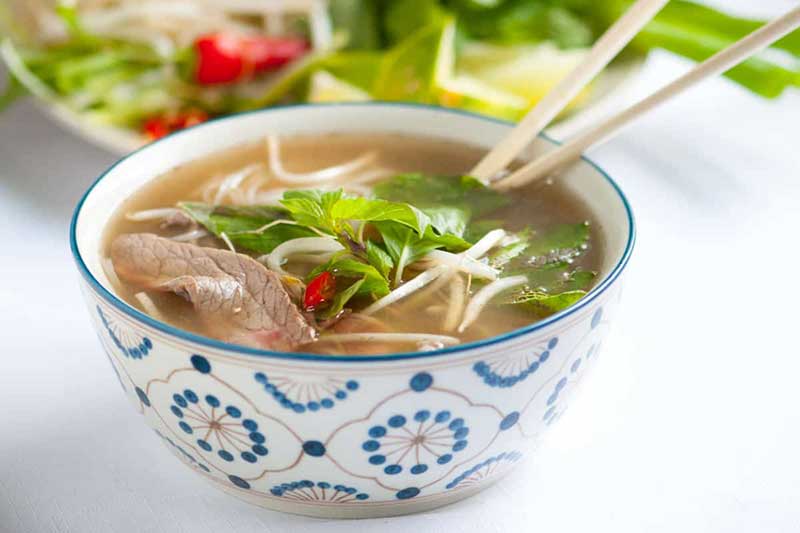 How to Eat Pho Noodles
Eating pho is an experience that involves multiple steps. First, add the desired garnishes and condiments to the bowl. Then, use chopsticks and a spoon to combine the noodles, meat, and toppings. Sip the aromatic broth and savor the interplay of flavors. The noodles can be enjoyed on their own or with a bit of everything in each bite. Slurping is encouraged!
Regional Variations of Pho
While pho is a beloved dish across Vietnam, there are regional variations that showcase unique characteristics. Northern-style pho typically features wider noodles and a clearer broth, while Southern-style pho tends to have a sweeter and more heavily spiced broth. Central Vietnam offers its own distinct version, often featuring a variety of beef cuts.
Health Benefits of Pho Noodles
Pho noodles offer several health benefits, making them a nutritious choice. The clear and aromatic broth is low in fat and calories, yet rich in vitamins and minerals. The noodles provide a gluten-free option for those with dietary restrictions. The abundance of fresh herbs and vegetables in pho contributes to its overall nutritional value.
Vegan and Vegetarian Pho Options
Pho is a versatile dish that can accommodate different dietary preferences. Vegetarian and vegan versions of pho have gained popularity, with plant-based proteins and flavorful vegetable broths replacing meat. These variations still capture the essence of pho and offer a satisfying and wholesome dining experience.
Refreshing and Nutritious: Cold Soba Salad Recipe
Pho Noodles: Beyond Soup
While pho is traditionally enjoyed as a soup, its flavors and ingredients can be incorporated into other dishes. Pho-inspired stir-fries, salads, and spring rolls have emerged, showcasing the versatility of pho noodles. These creative interpretations allow you to enjoy the distinctive flavors of pho in new and exciting ways.
Where to Find Authentic Pho Noodles
Authentic pho can be found in Vietnamese restaurants around the world. It's important to seek out establishments that prioritize using high-quality ingredients and follow traditional cooking methods. Online reviews and recommendations from fellow food enthusiasts can help you discover the best places to satisfy your pho cravings.
Tips for Making Pho at Home
While enjoying pho at a restaurant is a delightful experience, making it at home can be equally rewarding. To create a flavorful broth, simmer beef bones or chicken carcasses for several hours, skimming any impurities that rise to the surface. Experiment with different combinations of spices to find your preferred flavor profile. Don't forget to serve pho with an array of fresh herbs and condiments for the complete experience.
Conclusion
Pho noodles have captured the hearts and palates of food lovers worldwide. This ultimate guide has explored the origins, ingredients, preparation techniques, and various ways to enjoy pho. Whether you prefer a classic beef pho or a vegan version with tofu, the comforting flavors and textures of pho are sure to leave you satisfied. So, venture out or try your hand at making it at home, and embark on a culinary journey to savor the wonders of Pho noodles.
Is Banh Mi Considered a Traditional Vietnamese Dish?
Banh Mi, a popular Vietnamese dish, has a rich and fascinating history. Originally introduced during French colonization, this delectable sandwich blends Vietnamese flavors with French influences. The history of banh mi reflects the cultural fusion between Vietnam and France, making it a cherished symbol of Vietnam's culinary heritage.
FAQs (Frequently Asked Questions)
Can I substitute the rice noodles with another type of noodle?
While rice noodles are the traditional choice for pho, you can experiment with other noodles like soba or udon. However, keep in mind that the texture and taste may differ from the authentic pho experience.
Is pho a spicy dish?
Pho itself is not inherently spicy, but it can be customized with sliced chili or sriracha to add a kick of heat. You have the freedom to adjust the spice level according to your preference.
Are there any vegetarian-friendly pho options?
Yes, vegetarian and vegan pho options are available. These versions typically use vegetable broth and tofu or a variety of vegetables as the protein component. They still offer a flavorful and satisfying pho experience.
Can I freeze leftover pho broth?
Yes, you can freeze leftover pho broth for future use. Allow it to cool before transferring it to airtight containers or freezer bags. Thaw and reheat gently when you're ready to enjoy it again.
What other Vietnamese dishes pair well with pho?
Vietnamese cuisine offers a wide array of dishes that complement pho, such as spring rolls, banh mi sandwiches, and Vietnamese coffee. These culinary delights can enhance your overall dining experience.